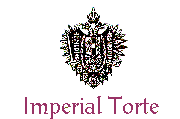 An Incomparable Delicacy . . .

Reserved exclusively for the Emperor, the Imperial Torte was a hidden secret for nearly 70 years.

Since the original recipe has been rediscovered, this "torte" is still made by hand at the Imperial Hotel in Vienna, using only the very best ingredients. Now in memory of Emperor Francis Joseph I.

The Imperial Cake was the "sweet greeting" the Emperor is said to have sent - by secret messenger - to a very famous actress as expression of his admiration and respect.